Menstrual Health and Hygiene Management Program : Amodini
Sharing the vision and responsibility of district administration of providing hygienic sanitation to the schools especially for girls and envisaging its sustainability, the project Amodini signifying a 'happy girl' was initiated by Versatile Enterprises (P) Ltd to break the silence around menstrual hygiene for girls around the society.
A majority of adolescent girls and women in the world do not have access to adequate information about menstruation or access to sanitation or hygiene products. Till today they are left to manage their days with solutions at hand, such as cloth, paper or clay and no access to private toilets, water or soap. Sanitary products like pads are unaffordable or simply unavailable and urinary or reproductive tract infections are common. As a result, girls miss valuable days in school, and women are unable to work, stifling productivity and advancement.
The project aimed to break the menstrual taboos that jeopardize the health of millions of girls every day, raise the awareness on menstrual hygiene and empower girls to take action, as menstruation should not hold women back to participate fully in society socially, educationally and professionally. Under the project the knowledge based workshop are conducted in schools by panel of gynecologists and public health expert. The practicum is divided into two modules. The supporting tools were presentation, films and handouts followed by interactive sessions.
Project Module
Basic Anatomy and Physiology of female reproductive system
Importance of Adolescent and puberty phase in life cycle.
Healthy Menstrual Hygienic practices
Education on Myths, beliefs and social norms on Menstruation
Menstrual disorders, Reproductive tract infections and PMS issues among girls
Use of Sanitary Napkin Vending and importance of means like Sanitary napkin
Guide on use of incinerator for disposal
Interactive sessions on related issues and experiences
Pre and post workshop knowledge evaluation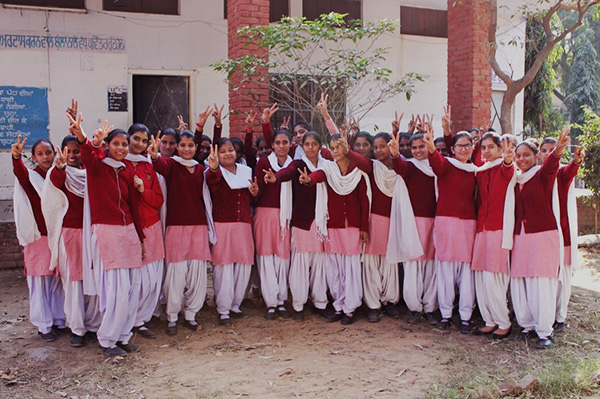 The workshop has sensitized me on various complications arising out of lack of menstrual hygiene. Now, I will be more conscious about maintaining hygiene and will further spread the message among other girls in my neighbourhood.
Amodini
The Project at the threshold of third year can be marked with visible impact like increase in attendance rate of girls,
Change in toilet cleanlines and girls becoming more vocal on subject.

School Sanitation Program
In the backdrop of developing scenario, schools especially government lack insufficient water supply, sanitation and hand washing facilities. The toilets are not adapted to the needs of children, in particular girls; broken, dirty and unsafe facilities. There is non-existent or irrelevant health and hygiene education for children and dirty classrooms and school compounds). None of these conditions make learning pleasurable or easy
We at Versatile, under our CSR initiative and commitment to Swachh Bharat Abhyiaan have conceived an effective School Sanitation program involving participatory education in addition to sound construction of water and sanitation facilities with child-friendly designs. The campaign consists of two main components: one component is the provision of adequate sanitation facilities in schools. The other component is a school education that promotes practices helping to prevent water and sanitation-related diseases and teaches the wise use of water and favorable hygiene behavior in the future generation of adults.
Urban Forestry - Preservation of Park
The increasing urbanization and unfocussed attention on urban green cover has increased urban environment stress. In this context, fragments of available urban parks become important in supplying local biodiversity, habitat, pollutant filtration, urban heat island amelioration, and the physical and mental well-being of urban residents.
Versatile Enterprises(p) Ltd, under its CSR policy has resolution for environment protection. Under the same, an urban municipal park was chosen up for restoration and maintenance. Located in Phase V focal point and with an area of approx 2.9 acres was virtually a dump ground and was covered with overgrown weeds.
After a long six month procedure of emptying garbage, weeding, tree trimming, planting, preserving, restoring pathways and edging, the park is ready to serve as oasis amidst the polluted industrial zone.
Event Album